Jake Ingalls' trajectory through the lysergic streams of psychedelic rock is the worthy subject of a biography. From adoring fan to makeshift stagehand to studio collaborator, Ingalls forged a remarkable relationship with venerated rockers The Flaming Lips, even bringing his pal Matthew Strong aboard the Lips' caravan as guitar tech.
So it's no wonder that Ingalls and Strong, musical friends since middle school, would end up in an outfit like Spaceface, a psych rock band that's uniformly informed by the pleasant-living bacchanalia of '70s soft rock and the jammy, "this band has chops" intricacies of prog. Borne out of Memphis and honed in Los Angeles, Spaceface is rounded out by fellow founding member Eric Martin (another childhood pal), Daniel Quinlan and Katie Pierce.
"The three of us that started the band have all openly admitted that while we played guitar a little bit before, the desire to start and perform in a band was ignited after we saw 'School of Rock,'" Ingalls said to PureHoney. "We all kinda converged with discovering Deerhunter, Tame Impala, Beach House and a few other bands emerging around that time. These days, Eric is more keyed into '60s style song writing and arrangements and I'm still focused on wacky tones, sneaky psych and psych pop music."
The band makes the most of its incredible chemistry and chameleon adaptability to varying producers and collaborators. Since bursting onto the scene in 2012 as featured artists on the Flaming Lips' conceptual take on King Crimson, "Playing Hide and Seek with the Ghosts of Dawn," Spaceface have delivered a raft of well-received EPs and singles as well as a phenomenal debut album in 2017, "Sun Kids."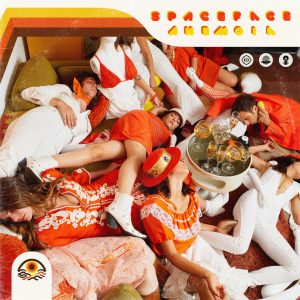 Their latest, "Anemoia," defined as "a longing for a place you have never actually experienced," is the product of a serious time commitment in Oklahoma's Blackwatch Studios and continues the band's sound with further cues from the worlds of yacht rock and funk. If anything, the more open they become to other genres, the more aligned they become with their self-description as a "retro futurist rock band."
The concept of anemoia — which Ingalls discovered in John Koenig's "Dictionary of Obscure Sorrows" — resonated with the band's love for language that whittles down complex subjects into a single word or simple phrase. "It's like poetry in the simplest form," they said. "Or really fun vocabulary homework. The English language doesn't have a lot of that so you tend to look elsewhere."
"Anemoia" also gains focus from band members' keen awareness of how the media glamorize bygone eras, and from their deep interest in the cultish subtext of the 2013 documentary, "The Institute." Ingalls playfully recalled purchasing second-hand '70s clothes and being confronted by their dad: "he said to me, 'you know nobody actually wore those marble print shirts, right? That was just in advertising,' and I'd scoff and say 'well it's cool so I'm gonna wear it.'" Only to realize that now, with the passing of time, younger people are emulating the outlandish fashions of early aughts Vodafone ads.
"For this record, I really wanted to lean into that by trying to arrange music in the old-school way, pretending that we were the backdrop band for this cult, then go in and add big subby bass and crazy synths with reckless abandon," they said, noting the band's underlining desire to sound like a '70s outfit with modern tools.
One idea they're tinkering with involves taking specific song elements from a fruitful 2020, 12-day writing and recording session held at Sonic Ranch in Texas, running them through DJ decks and Serato software in order to remix the song before completion, and then writing on top of that — essentially flipping the band's writing process on its head. "I think it could be fun but I wouldn't know what genre that would turn out to be," Ingalls joked.
Beyond the sonic, Spaceface go above and beyond so that fans at their shows never succumb to anemoia. With an improvised lighting rig that Quinlan's been tinkering with over the years and a rotating menagerie of props, Spaceface are invested in the immersive experience of music. After all, as fans first, they can appreciate giving theirs that extra bang for the buck.
Spaceface play Bumblefest Saturday, Sept. 3 in downtown West Palm Beach. bumblefest.com ~ Abel Folgar