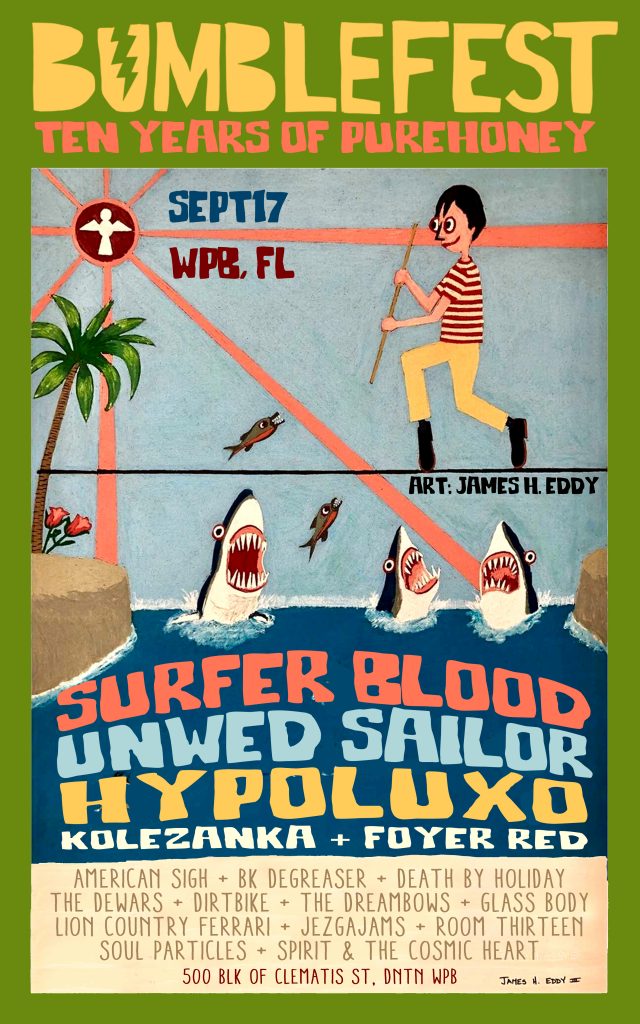 Friday, September 17, 2021
UNWED SAILOR (Tulsa)
SURFER BLOOD (WPB)
HYPOLUXO (Brooklyn)
FOYER RED (Brooklyn)
KOLEZANKA (Brooklyn)
American Sigh
Ben Katzman's Degreaser
Death by Holiday
The Dewars
Dirtbike
The Dreambows
Glass Body
Jakob Takos & the Connection
Jezgajams
Mouthtape
Room Thirteen
Soul Particles
Spirit & the Cosmic Heart

5PM HAPPY HOUR and bands begin at 6pm!
500 block of Clematis Street,Downtown WPB
2021 Graphics by the incredible James H. Eddy
SURFER BLOOD
Surfer Blood's 5th album, Carefree Theatre, was released on 9/25/20 on Kanine Records, Also released in 2020 was 10th anniversary deluxe 2-LP vinyl reissue of their debut album Astro Coast, and the Hard-Boiled 10" ep with special guest vocalists.
Founding Surfer Blood members John Paul Pitts and Tyler Schwarz are joined by guitarist Michael McCleary and bassist Lindsey Mills, all alumni of the same high school in West Palm Beach, Florida. Surfer Blood are the cleanest and nicest band in existence.
HYPOLUXO
"Hypoluxo almost didn't make it. Members of the Brooklyn-based quartet have been playing together in some form since their teens but their experience with the music industry could have broken a less tenacious group. Young and impressionable they signed an opaque deal that left them at the whim of a label with no interest in transparency or care for their releases. Many bands have broken up, fallen apart and moved on from lesser struggles but the frustration born from this experience crystallized into an aggressive and urgent album of power-pop inflected post-punk on Hypoluxo's LP3.
On LP3 the band have crafted their most polished, unmediated and rousing songs to date. Eschewing the dream pop of their previous work LP3 hits immediately with lead guitarist Cameron Riordan's angular post-punk lines whirling over the unrelenting rhythm section of drummer Marco Ocampo and bassist Eric Jaso while lead singer Samuel Cogen's emotion packed vocals, replete with distinct yelps and near-screams grab you by the collar and refuse to let go. With help from San Fermin's Allen Tate, who produced LP3, these songs exude a charismatic charm that belies the surreptitious despondency that runs through Hypoluxo's new album.
Hypoluxo take no time launching into their entrancing brand of intricate post-punk on first single, "Ridden", which delves into the band's near dissolution, while their jaded lyrics are cut by Riordan's fluttering guitar work through the chorus while Ocampo's frenetic beats are perfectly complemented by Jaso's driving bass line. It's not all doom, though, as "Ridden" concludes and Cogen leaves a glimmer of hope with the repetition of "I feel Im stronger than that / I feel Im better than that". "Nimbus" is a derisive takedown of weathermen, written during Cogen's time working delivery on his bike in NYC and the mercurial nature of the job. "Shock" opens with shimmering guitar work and allows the rhythm section to shine on the most aughts indie rock influenced song on LP3, with these big building verses and Kristina Moore's sweetly sung backing vocals that belie the quarantine-induced insomnia, sleep deprivation and feeling of being trapped that spawned the song. While on "Nightlife", with it's wildly vacillating rhythms, Hypoluxo recalls the feeling of moving to the city, finding your footing, or not, and the hedonistic lifestyle that's much too easy to fall into. Throughout the ten songs on LP3 the band traces their own growth from teenagers on their 2016 debut If Language, the eagerness and enthusiasm that was dashed by the onslaught of adult life and the exploitation that is rife in the music industry. There are glimmers of hope and a deep sense of resiliency in these vignettes of growing up, finding yourself and your confidence in a world that wants nothing more than to beat you down. On LP3 Hypoluxo are resolute in their refusal to be taken advantage of anymore and the results are an album that is urgent in it's convictions. Maybe a bit of a "fuck you" as well."
UNWED SAILOR 
The journey of Unwed Sailor began in Seattle, WA in 1998, shortly after Johnathon Ford departed critically praised bands Roadside Monument and Pedro the Lion. While working within those projects, Ford began writing instrumental music after listening to Tortoise, Pullman, and seeing bands like Physics perform live. After recruiting Dave Bazan (Pedro the Lion), Casey Wescott (Fleet Foxes), and Melissa Palladino (Danielson Famile) to play on the now classic Firecracker EP, Unwed Sailor was born. Two decades and seventeen releases later, Ford has continued to rely on the band as a device for personal exploration and emotive narration. Unwed Sailor now joins forces with Spartan Records for the release of their latest moody and cinematic journey, Truth or Consequences, a sonic examination of particular memories or moments in Johnathon Ford's life, with each song serving as a unique snapshot of an overarching narrative. Truth or Consequences is shaped around familiar musical DNA. Heavily present, driving, and stacked bass lines; wandering and evolving song structures; soaring crescendos and moody diminuendos; and, of course, a gripping sense of sonic storytelling.
THREE STAGES: Respectable Street (inside/outside) * Subculture Alley